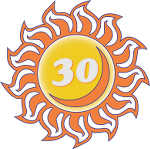 2015 Season
2015 is the 30th Anniversary of the League, see some of the history of the League on the Archive pages.
NB this year there is no registration on the day at the races: you need to get a race number from your own club's HDSRL rep before you can race.
Latest, 30 May: more Wetherby details added
Date
Time
Organising club
Details
Results
Tue 5th May
7.30pm
Harrogate Harriers & AC
(please note earlier race time)
Details
Thu 21st May
7.45pm
Dragons RC
Details
Tue 2nd June
7.45pm
Thirsk & Sowerby AC
Details
Wed 17th June
7.45pm
Wetherby Runners
Details
Tue 7th July
7.20pm onwards
Otley AC for the Norman Smith Handicap Race & League Presentation
Details, Course map,

Facebook users might like to join the Harrogate District Summer Race League Group, to chat about what's going on in the League, share photos, give and get positive feedback, and so on ...
The group is called ... Harrogate District Summer Race League ...